weeks and six months were randomized to receive exercise therapy or manual therapy. The patients, ages
20-60, were administered 16, 45-minute treatments over eight weeks; outcomes (pain intensity, functional
disability, general health and return-to-work status) were measured before and after treatment and at four
weeks, six months and one year after treatment. Spinal range of motion was recorded only before and
immediately after treatment.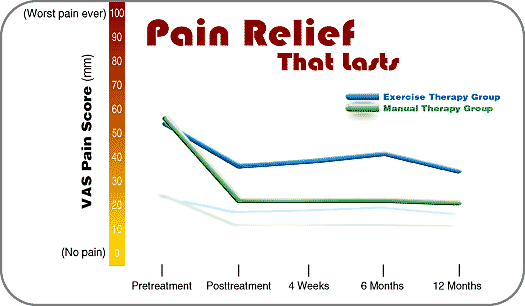 Subjects in the manual-therapy group received mobilization or HVLA manipulation from trained
physiotherapists. Manual procedures were limited to traction thrust to the thoracic-lumbar junction;
side-posture rotation-lateral flexion manipulation to segments between T10-L5; and/or sacroiliac
manipulation. These subjects also performed 11 specific exercises to improve strength, flexibility and
coordination of the torso, spine and legs. Exercise-group patients trained under the supervision of a
physiotherapist for 45 minutes per session, with a 35-minute focus on the trunk and legs that followed 10
minutes of warm-up on an exercise bicycle.

Results: Both groups showed improvements; however, the manual-therapy group experienced greater
improvements than the exercise group in all outcome measures at every point in follow-up. For example,
mean reduction in pain on a visual analog scale (VAS) was doubled for manual-therapy patients compared to
exercise patients (33 mm vs. 17 mm). Also, immediately following the treatment period, the manual-therapy
group was significantly more likely to have returned to work (67% vs. 27% for the exercise group). At
one-year follow-up, exercise-therapy patients were over three times more likely to still be sick-listed (59%)
than manual-therapy patients (19%).

Aure OF, Nilsen JH, Vasseljen O. Manual therapy and exercise therapy in patients with chronic low back pain:
A randomized, controlled trial with 1-year follow-up. Spine 2003:28(6), pp. 525-532.
www.spinejournal.com